SiteManager Version 6 is Coming!
Written by Ross Cockerham
Punchmark, focusing on ease of use and page-speed performance, is completely rebuilding SiteManager from the ground-up to create Version 6 of the platform. This year, by hand-selecting server infrastructure and utilizing new networking and page-caching technology, the new engine behind Version 6 is geared to take all of the powerful functionality that Punchmark has built into their websites and serve it the fastest way possible.
Multi-level Page Caching: The new server-side page renderer will take advantage of caching on multiple levels so that even if one part of the page needs to be re-created, the rest of the page can be served from a static source. This greatly speeds up the serving of dynamic pages.
Data Caching: To save pages from making multiple database queries to load dynamic content, data will be cached server-side to shave time between request and response. Given that jewelry websites contain lots of dynamic content, this caching saves multiple return trips to the database, saving lot of time.
Content Delivery Network: Building on what Version 5 already provides, Version 6 optimizes the way that it uses CDNs to deliver content to users anywhere in the world in the fastest time possible by using the machine closest to them.
Much like what is already included in Version 5, SiteManager Version 6 will improve continuously throughout its lifetime. Punchmark already has plans for updates to Version 6 that make it even more powerful.
Some new features and benefits include:
• Updated Slider and Slider Administration
• Adding Full-screen Banners to Any Page or Page Group
• Fully Editable Homepage, Widgets, Layout, and Other Global Elements
• Customize your Theme, Colors, Typography, Styling, and Design Settings
• Page Templates, and New Page-Creation Features
• Simplified Dashboard & SiteManager Navigation
Please call 704.910.4774 or make an appointment for the next trade show to learn more about the next version of SiteManager.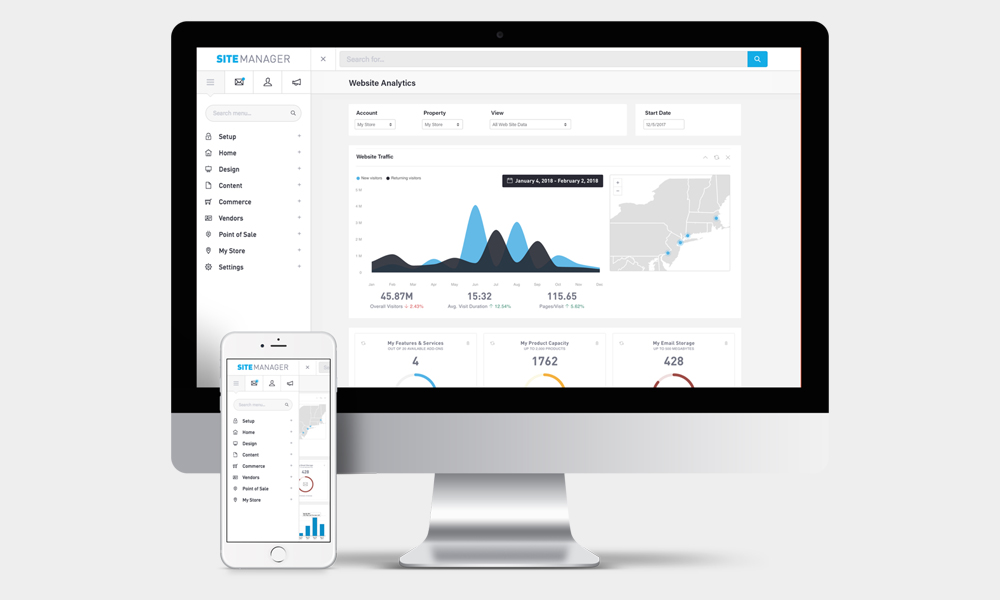 ---
---